How to Use Retail or Service Experience to Get a 9-to-5 Job
Anyone who has worked in the retail or service industry knows the list of valuable skills obtained in this fast-paced and high-stress industry is immense. Skills that are in high demand and applicable in today's professional job market.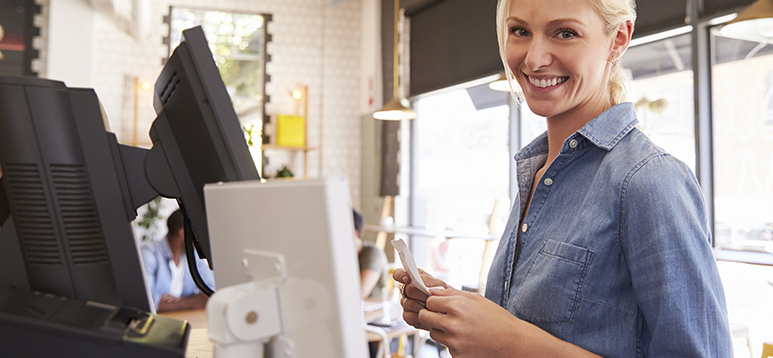 So, if you're ready to move to a more predictable schedule – or one that includes benefits like health insurance and retirement accounts, now is the perfect time. One industry in particular is booming in Southern Maine – temporary staffing. And, before you shake your head, consider the strong demand in this industry for people with retail service skills. It's the perfect bridge into the professional world, giving you the opportunity to explore new jobs in different industries without having to commit to a permanent career path.
Put your marketing skills to use: It's time to sell yourself!
You know you want to get your foot in the door in the professional world. You want to have a more dependable and routine schedule than the crazy one you have now. You're motivated to expand your skills, obtain important contacts and references, make some money, and maximize your career potential. You want to see what this 9-to-5, Monday-to-Friday world is like before you choose your direction. It's all good, but it's a lot to sort out.
All of this requires some good marketing on your part. Instead of it being about the products/services you provide, this pitch is now all about you!
When presenting yourself to a potential employer in Southern Maine, you need to craft the right package. Here's how to do it:
Create a personable cover letter highlighting your skills. In thinking about what's most important to an employer, focus on specific areas like:
Sales (did you play a part in boosting profitability? Are there other notable things like this to highlight?)
Work ethic (demonstrate your dedication to your employer and personal work goals)
Customer service (every industry deals with challenging client/customer situations- what did you bring to the table to ensure customer satisfaction goals were met?)
Multi-tasking under pressure (is this something you thrive on?)
A strong team-player mentality (and how you can work with many different types of personalities)
Management skills (be very specific here in any kind of managerial responsibilities you had)
Volunteer work- have you already put your retail skills to good use at a non-profit organization? If you haven't yet, seek out volunteer opportunities to build up your professional portfolio and skills, and gain important networking connections all while doing some feel-good work here in southern Maine.
And of course, don't forget about networking. If you like the retail organization you currently work for, check with the company to see if any professional jobs are available right now or are coming down the pipeline. If you're looking to broaden your net, dive into your existing network of friends/acquaintances to see what connections they might have (i.e. LinkedIn, social media) that could give you a leg up in your job search.
Most importantly, if you really want to get into a new position quickly, look for a respected temporary staffing agency to help. Why?
According to Inc.:
79% of job seekers use social media in their job search (this jumps to 86% of younger job seekers who are in the first decade of their careers).
45% of job seekers use their mobile devices to search for jobs at least once daily.
Simply put, the well-known internet job boards are over-crowded, and they are not the most effective way to get a temporary position. That's where ProSearch comes in.
Because job boards are oversaturated and cumbersome – for both job seekers and employers – many top employers in Maine turn to temporary staffing agencies to help fill (or exclusively fill) key positions. Often, they see these jobs as extended interviews (we call them Pathway Positions), where the goal is to find a good fit and hire them permanently at the end of their temporary contract.
Southern Maine's top employers come to us to fill these positions with our quality candidates, oftentimes before the jobs are even advertised online. Being part of the ProSearch network gives you exclusive access to these opportunities, and a recruiter to help match you with the best fit.
Joining the ProSearch network is free and easy to do. Just submit your resume and a couple words about the type of position you're looking for on our website. If it sounds like a good fit, one of our recruiters will give you a call to talk more about what you are looking for in making the shift from retail into the 9-5 world, and if a temp-to-hire outcome (via our Pathway Positions) is of interest. Not only will the recruiters be able to match you up to current opportunities, they may also have some inside insight into potential opportunities coming up in the near future.
The Southern Maine job market is hot right now, and it's a great time to make this leap into a new industry, putting your valuable retail or service industry skills to work for a top southern Maine company.
Join the ProSearch network today and start a 9-to-5 job tomorrow!
At ProSearch, we believe that people's time and careers are important, and we pride ourselves on helping our candidates and clients find the right fit in an open and honest way. While these jobs may be temporary, they far exceed short-term transactions, and we are fully engaged in helping all of our candidates find the very best solutions for their next employment step.
If you're ready to take this first step and have ProSearch's talented recruiters behind you, visit our job board or give us a call at (207) 775-7600 for immediate VIP access to the best network of job opportunities from Southern Maine's top employers. Your retail industry skills and dedication to applying them in the 9-5 world marks an exciting transition in your professional life.
Let's get to work!