How to Make the Most of Your Hospitality Experience on Your Resume
If you were to take a survey of the people who are now currently working in a professional career, you'd find that many of them worked in the food/hospitality industry at some point in their career. Working retail, waitressing or slinging drinks as a bartender is good, hard work, and the pay and perks (i.e. employee discounts) can be great, too.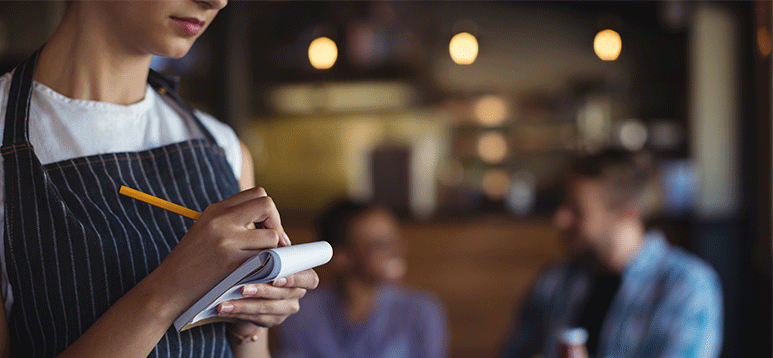 At some point though, the long hours – nights, weekends and holidays – can start to wear on you. This is especially true if you have a young family that wants to spend more quality time with you. Or maybe you need better access to health insurance, a retirement plan or some other benefit that's not available to you now.
Whatever your reason for making the change, when it comes time to start researching your next move, it's going to be very important to be able to communicate the real value that you bring to the table (pun intended) in your new role. This can sometimes be challenging for people who are looking to change career paths from hospitality to working in professional fields like insurance, healthcare or education. So where do you begin?
A Good Cover Letter Highlights Your Transferable Skills
The cover letter you draft should provide the sizzle that goes with the steak (i.e. your resume) and speak directly to the needs of the employer. This is where hiring professionals suggest drafting a personalized cover letter that is sent along with every job application you submit. In the cover letter, describe how the skills you've acquired in the restaurant industry and responsibilities you've had in the past are directly transferable to the position you're applying for.
Hiring managers will appreciate things like your initiative; the fact that you sought out additional responsibilities – training new employees or performing other managerial tasks such as inventory, loss prevention, customer service or marketing and sales activities.
Tell them about your personality traits as they pertain to the job you are applying for. For example, most people working in customer-facing roles (waiters, waitresses, hosts, bartenders) are likely going to have good communication skills, a strong ability to multitask, and understand how important it is to set/meet customer expectations.
When tied directly to the responsibilities outlined in the job description, it becomes easier for a hiring manager to take a leap of faith and bring you in for an interview. In the eyes of an interviewer, just showing that you have some of the personality-based 'soft skills' that a job requires can be enough to set you apart from the other applicants.
Recruiters to the rescue
Sometimes, though, a good cover letter and shining personality still isn't enough. So much of the job market these days depends on connections – personal and professional ones. If you haven't worked in the "9-5 office world" for a while, it can sometimes be difficult to break back in. And that's where a temporary staffing agency can help.
While it might seem like a temp job is just a temporary fix, the reality is that they're often the quickest way in to a permanent position – especially when you're making an industry shift. At ProSearch, many of our temp jobs are what we call Pathway Positions, basically a temp-to-hire opportunity where the temp work serves as an extended interview that ideally results in a permanent hire.
Temporary staffing agencies work directly with many of the top employers in Maine, and often have insider knowledge about specific positions that are or will be opening up, and connections to hiring managers that help expedite the application and interview process.
Not only do recruiters have first-hand intel about many of the top employers in Maine, they're also adept at matchmaking. Recruiters are motivated to put people in positions where they can succeed. Over time, they'll often have a better idea of what type of person will do well in a particular company than the hiring manager will. Imagine having a professional resource that's able to swipe left or right on your behalf? That's what a good recruiter at a staffing agency can do for you.
More Tips on Playing the Match Game
Here are a few tips on how to make the most of your previous job experience:
Revise the wording of previous job responsibilities to coincide with the requirements of the job you are applying for.
Choose meaningful, professional sounding words to present your experience – and your vocabulary – in a more favorable light (-i.e. cuisine vs. food, beverage vs. drinks, etc.).
Volunteer and network with people and organizations that are aligned with the industry you want to join. Use these opportunities to bolster your public profile and your resume.
Apply for a temp position.
Want to get off the 'shift work' career path?
Switching careers is hard work – especially when you try to do it all on your own. Why not press the easy button and let a trusted temporary staffing agency help you make the transition?
Many of Southern Maine's most prestigious employers regularly turn to ProSearch to fill open positions quickly. We help them fill key positions during periods of high demand for their products and services, backfill capacity during a family/maternity leave, or to quickly respond to an unanticipated spike in orders. Temporary employment gives you an opportunity to try a new career (and a new employer) and see if that might be the one you want. Research from the American Staffing Association (ASA) found that typically a little more than one-third (35%) of all temporary job placements end up receiving offers for permanent, full time work from their employers.
Joining the ProSearch Network gives you primary access to better jobs that often never make it to a job board. Instead, these positions are filled immediately by candidates in our network. And, there's no risk and no cost to you. So, if you're looking to stop working shift hours and begin a new path, join the ProSearch Network today!