How to Market Your Parenting Experience to Employers in Maine
As a full-time parent, you've already conquered the hardest job out there, not to mention one without an instruction manual. Now you're ready to take your skills and unique perspective to the job force. Understandably, you may be nervous about re-entering the professional market with your college and early job experiences in the rearview mirror, but it's time to look forward and put that parenting experience to work for you.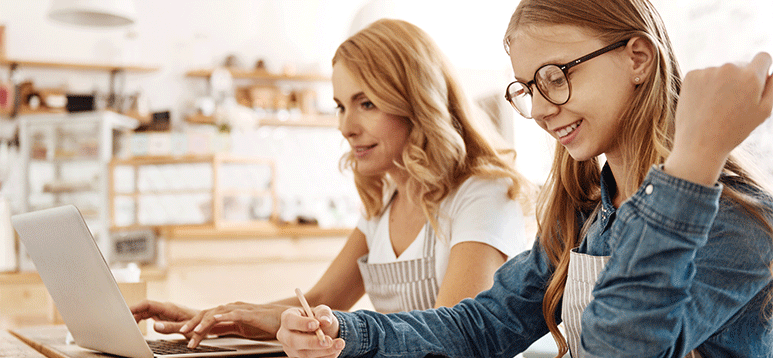 It may not be the first place you think to look, but a temp position is a great way to bridge that long gap between pre-child work experience and today's job market. Since you'll need some help getting up to speed on the current job market and a leg up on connecting with the right employers, a temporary staffing agency based in Southern Maine is often the perfect way to make this next big step. Getting back into the professional working world, without making long-term career commitments, is easier than you might think, so let's get started!
Why temporary employment is key to work-life balance
You probably have vivid memories of your career before you had children. Long hours, tough commutes, never-ending meetings, and unexpected "fire drills" that cut into your holiday or vacation plans. This is not the case with temporary employment. You go to your job each day, get paid for the time you actually work (no more unpaid overtime), and then go home to your family.
With this kind of job flexibility, you get that work-life balance that you need (and have earned!) at this stage of your life. Just like you can be "on" at work, you also need to be equally "on" in your home life and present with your family.
Temporary employment is also the easiest way to head back into the workforce. It's a golden opportunity to explore exciting new industries and different careers that might not have been around in your previous work life. It's also the most effective way to dust off your resume and start populating it with all-new professional experience, updated skills, and immerse yourself in the emerging technologies and strategies that today's employers are looking for. Speaking of your resume, if you are nervous about its current state, let's tackle how to quickly polish it up.
Confidence over the timing gap: Let's get the resume ready!
If you are stumped about how to update your resume, start by checking out current resume standards and templates to ensure you are using the right format to meet today's contemporary expectations.
Next, it's time to get started on the content with a few simple strategies:
Focus your resume and cover letter on transferrable skills. As a full-time parent you did some amazing work that an employer would be lucky to have; highlight things like notable organization, communication skills, and grace under pressure in these documents.
Since there is a long gap since your last job, put your most impressive/relevant/noteworthy experience and accomplishments at the top, instead of in reverse chronological order.
Make sure to include your roles in various parenting, community, and volunteer organizations, and detail your marketable skills used in these positions.
Look for and connect with employers who value specific and unique skills that parents bring to the table.
Network with other parents that have solid professional connections.
Polish it up; make sure it's error-free before it goes out!
Above all, be honest and confident. Sure, it's been a while, but so many top employers need you exactly for the experience you already have! Show them what you can bring to the table, and let a skilled temporary staffing agency help to get it in front of southern Maine's top employers.
Getting started with a temporary staffing agency in Southern Maine
If it's been a while since you've been in the workforce, working with a temporary staffing agency to help you fine-tune your resume, better visualize your goals, and gain confidence about going back to work can be a huge advantage. Since many of Maine's top employers utilize ProSearch (often exclusively) as a trusted staffing partner, you'll be adding another layer of professional credibility to your resume, just by being a part of the network.
The first step is simple. Just send your resume with your professional background and skill set to ProSearch. After that, you'll speak to a specialized recruiter about your ideal position (including those work-life balance options that you need) and areas of interest, all at no cost and with zero risk to you.
At ProSearch, your profile is then matched to current job openings across Southern Maine's top employers. Instead of scouring job listing boards or spending all your time online submitting resumes, you're already in the ProSearch network when the right opportunity comes up. As a major benefit to our candidates, we fill the majority of our positions (almost 50%) before they're even advertised, so no one else even gets the chance to compete for the job, leaving you front and center on the recruiters' radar when the perfect opportunity knocks.
And, if you are looking for a "temp-to-hire" situation, talk to our recruiters about our Pathway Positions – temporary jobs that are designed to turn into full-time positions. Think of it like an extended interview that you actually get paid for!
Your skills, especially those gained in your important full-time parenting role, are in high demand. Now it's time to let ProSearch help you make this important next big step back into the working world.
Join the ProSearch network today!
At ProSearch, we believe that people's time and careers are important, and we pride ourselves on helping our candidates and clients find the right fit in an open and honest way. While these jobs may be temporary, they far exceed short-term transactions, and we are fully engaged in helping all of our candidates find the very best solutions for their next employment step.
If you are ready to have ProSearch's talented recruiters behind you, visit our website or give us a call at (207) 775-7600 for immediate VIP access to the best network of job opportunities from southern Maine's top employers before other people even get the chance to see it. No longer do you have to make the hard choice between work and family; with temporary employment in Southern Maine, you can have both. It's an exciting time to find yourself in the professional world again, and this valuable job experience will help provide clarity on your next steps! Join the ProSearch Network today!