10 Tips to Turn Your Restaurant Job into a Professional Gig
The food service industry is legendary for its intensity. The hours are long, the work is hard, the physical requirements are grueling, and the customers can be beyond challenging. To call it hard work is an understatement. So, if you're looking to shift into a professional office job, maybe one that offers benefits like health insurance and 401k, we get it – and we can help.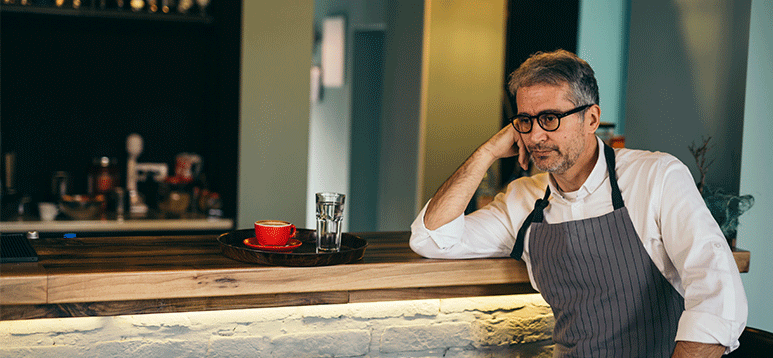 While you've probably heard that unemployment is at a record low, and you might assume landing a professional job will be a cinch – the reality is that good, professional jobs at top Maine employers can be hard to come by.
In order to stand out, you'll need to build up the right kind of experience. Temp jobs are the perfect fit for this type of situation. They're like a bridge into the professional world, giving you the opportunity to explore new jobs in different industries, gain experience, and get paid – all without having to commit to a permanent career path. And, there is a genuine demand in this industry for people with restaurant service skills. If you are ready to hear more, let's get started!
It's Time to Become a Professional (And You Already Have the Foundation!)
When you're changing industries the number one thing you need to do is show employers how your previous experience translates to your desired industry. But, "I just have a restaurant on my resume," you may think… "What more is there to include?"
The truth is, there is so much more relevant and exciting experience you bring to the table! Now it's time to start shifting your mindset to highlighting the many skills you have, and not just reporting the places you've worked.
A great starting place is the JWU Online blog, "Five Career Skills I learned Working in a Restaurant," by Annie Shalvey which uncovers the "bigger picture" thinking that should be applied to your professional journey. Her five key points are summarized below as the kick-off to our 10 top tips!
1. Patience and Problem-Solving: The restaurant world is characterized by unexpected (often stressful) situations, and you are required to problem-solve with positivity and patience, especially since the hospitality industry lives and dies by positive customer reviews and word of mouth.
How this applies to you: What experiences have you had keeping your cool in difficult situations? What tools did you use to solve problems and what were the final outcomes?
2. Multi-Tasking: In a busy restaurant, there is no such thing as one task at a time. You've got multiple food orders up, the kitchen is calling you, the customer waving you over, and you've spotted another table that needs water on your way over.
How this applies to you: How do you best prioritize your responsibilities and needed tasks at hand? How do you get it all done, and how do you do it in a calm and positive way? Do you like wearing many hats, and how could this help an employer that specializes in many different areas?
3. Flexibility: Just like with any team, restaurant life requires you to "pitch in" and help other people if it's needed for the greater good of the team, the business, or the customers, even if it isn't "your job."
How this applies to you: How do you collaborate with your coworkers on their projects and also get your tasks done? Are you a team player that's willing to do what is needed to bring about the best outcomes?
4. Communication: Everything in the restaurant industry requires communication. From talking to customers, to coordinating with the kitchen, to working with colleagues, you need excellent communication skills, especially when situations can get sticky. This is an incredibly valuable skill in the professional world, too!
How this applies to you: What is your communication style? How do you help the entire team get through challenging situations?
5. Thick Skin: This is something that every single adult still works on, and the restaurant world has given you an amazing head start! Instead of getting emotional, how can you manage the stress and learn from it?
How this applies to you: How do you handle criticism? Do you apply it constructively? And, can you communicate calmly with other people in uncomfortable situations?
Once you've thought about how your restaurant industry skills translate to the professional world, it's time to freshen up that resume. Some quick tips to getting your resume ready include:
6. Create A Personable Cover Letter Highlighting Your Skills. In addition to the transferable skills highlighted above, consider:
Sales Experience: what kind of profitability did you bring to the restaurant? Have you mastered the art of suggestive, up-selling?
Work Ethic: demonstrate how you were much more than a server and show the team-building skills you brought to the business and the people around you.
Management Skills: be very specific here and list any kind of managerial responsibilities you had in your previous role.
7. Volunteer: Seek out volunteer opportunities to build up your professional portfolio and skills, and gain important networking connections all while doing good work for the Maine community.
For potential ideas and opportunities, check out local organizations like Junior Achievement, Big Brothers Big Sisters, Rippleffect, or Make a Wish.
8. Network: Fully explore your existing network of friends and acquaintances (both on and offline) to see what connections they might have that could give you a leg up in your job search.
9. Get a Head Start with A Temporary Staffing Agency
If you really want to get into a new position quickly, look for a respected temporary staffing agency to help. Internet job boards tend to be overcrowded, outdated, and inefficient in terms of landing a new position quickly. That's where ProSearch comes in.
Because job boards are oversaturated and cumbersome – for both job seekers and employers – many top employers in Maine turn to temporary staffing agencies to help fill (or exclusively fill) key positions. Often, they see these jobs as extended interviews (we call them Pathway Positions) where the goal is to find a good fit and hire them permanently at the end of their temp contract.
Southern Maine's top employers turn to ProSearch to fill these positions with our quality candidates, oftentimes before the jobs are even advertised online. Being part of the ProSearch network gives you exclusive access to these opportunities, and a recruiter to help match you with the best fit.
Joining the ProSearch network is free and easy to do. Just submit your resume and a bit about the type of position you're looking for on our website. If it sounds like a good fit, one of our recruiters will call you to chat more about what you are looking for in making the shift from the restaurant industry into the professional world, and help land you a professional position quickly.
The Southern Maine job market is hot right now, and it's a great time to make this leap, putting your valuable restaurant service industry skills to work for a top southern Maine company.
10. Join the ProSearch Network Today And Start Your Professional Gig Tomorrow!
At ProSearch, we believe that people's time and careers are important, and we pride ourselves on helping our candidates and clients find the right fit in an open and honest way. While these jobs may be temporary, we are fully engaged in helping all of our candidates find the very best solutions for the next step in their career.
If you're ready to take this first step and have ProSearch's talented recruiters behind you, visit our website or give us a call at (207) 775-7600 for immediate access to the best network of job opportunities from southern Maine's top employers. Join the ProSearch Network today! Let's get to work!
References: