How to Get a Job with Little or No Experience
Congratulations on your recent college graduation! You are now armed with a degree (or two) and heading into the real world right here in Southern Maine. If snagging that first professional job feels daunting, you aren't alone. It's easy for new college graduates to get trapped in the "you need experience to get experience" circle. So frustrating.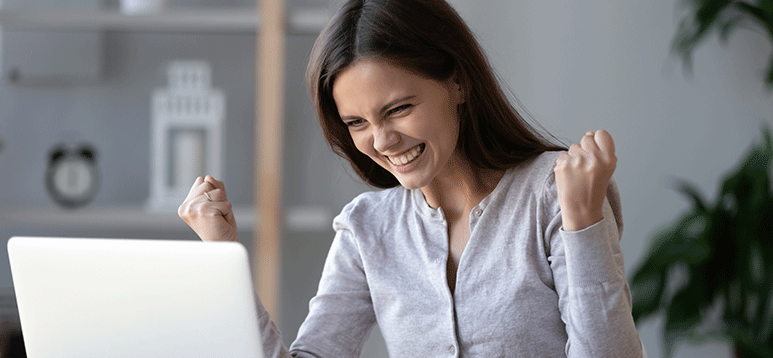 But if you are committed to building your professional resume, aim your focus on temporary employment in Southern Maine. While it might not be what you originally had in mind, temporary positions are actually a genius way to get experience while getting paid – and get your foot in the door at some of Maine's top employers, all while earning money to chip away at student loan debt.
If you are ready to work today, skip the job boards and get a step ahead. A temporary staffing agency can grant you faster and better access to exclusive job opportunities from southern Maine's top companies before they're even posted to the public. Are you ready to learn more about how to hit the ground running right now? Let's dive in!
You have to stand out in a crowded job market
Let's look at Maine's job market specifics:
Challenge: There is a predicted net growth of just 94 jobs in Maine between 2016 to 2026, at about nine new jobs each year, according to a report published by the Department of Labor's Center for Workforce Research and Information.
Opportunity: The fastest rate of job growth is expected in human-capital-intensive occupations that typically require a post-secondary award or degree, and many of these job openings stem from the need to replace the large number of baby boomers that will be retiring, so says the Center for Workforce Research, Maine Department of Labor in their Maine Workforce Outlook 2014 to 2024.
As you most likely learned in college, the most fulfilling accomplishments come from new challenges. Securing employment in Southern Maine amidst a competitive market is absolutely a challenge you can meet with the right tools in place, starting with your resume.
You are not limited to your current experience
As a college graduate, you won't have a long resume of professional work experience. However, you do have existing skillsets and opportunities to build your post-graduate presence in some simple steps outlined here:
Bump up the non-work elements of your resume and cover letter (spotlight school club participation, leadership roles, and other unique things you have done in your educational career).
Attend local networking events, conferences, and workshops to make critical connections and broaden your knowledge base.
Create some spec work for your industry of choice.
Seek out certifications that can build your credibility and areas of expertise.
Volunteer! Non-profit organizations often need people to help with projects in marketing, accounting, social media, communication outreach, and special event coordination. This is a powerful way to build your network, flex your skills, and earn resume experience. It's also a great way to connect directly with people in the community and do some good for our neighbors here in Southern Maine.
Why consider temp positions in Southern Maine?
Coming out of college, you have so many paths to consider. But you may also lack the required qualifications for a more senior position, and that's exactly the stage you should be in! It's also why temporary employment is the perfect next step, as it gives you diverse and marketable professional experience while you explore your career path, learning what sparks your passion the most.
With temporary employment, you can:
Start a job immediately and get paid right away (student loan repayment comes up quickly, and you don't want to incur this debt as you are just starting out).
Explore new industries and jobs that you may not have considered before.
Build your own professional network and secure valuable professional references.
Become more skilled and marketable for the future dream job you want when you are more qualified to apply for it.
Get your foot in the door at a company you really want to work for and see if it's a good fit for you and the employers.

The American Staffing Association (ASA) found that about 35% of all temporary job placements end up being an offer for a full-time position – so this is an excellent way to get your "in."
How do temporary employment agencies in Southern Maine work?
Since online job boards tend to be crowded and cumbersome, here in Southern Maine, many top employers turn to a trusted staffing partner to fill key positions with the right candidates.
Those staffing agencies then turn to their existing networks to pull the perfect candidates for each position. Most of the time the positions are filled before they ever even hit an online job board.
The key is being in that network. And fortunately, it's easy to do. Simply send your resume along with your education, professional background, specialties, and other notable accomplishments to ProSearch through our website. We'll take it from there. If you seem like a good fit you'll have a brief phone call with one of our recruiters to find out more about your goals, industries, and companies of interest, and we'll get to work finding you the perfect match.
ProSearch will match your profile with current job openings amongst Southern Maine's top employers. Many of these listings are exclusive to our agency; job posts that will never see the light of day on a job board. Additionally, skilled ProSearch recruiters have deep insight and great connections with these southern Maine employers, often knowing what is coming down the pipeline before the hiring manager even makes a formal request. If you're connected to the ProSearch network, you'll gain the best and fastest access to local jobs; a critical way to get a leg up in the crowded Maine marketplace.
Above all, temporary employment is not just beneficial to these employers that have a job to fill; it's also an opportunity for you to get firsthand insight into what you want most in your future career. It's a unique way to explore your strengths and interests in the professional world without locking into anything quite yet, all the while getting paid to find your best future path.
Join the ProSearch network today!
At ProSearch, we believe that people's time and careers are important, and we pride ourselves on helping our candidates and clients find the right fit in an open and honest way. While these jobs may be temporary, they far exceed short-term transactions, and we are fully engaged in helping all of our candidates find the very best solutions for their next employment step.
If you are ready to take this first step and have ProSearch's talented recruiters behind you, visit our website or give us a call at (207) 775-7600 for immediate VIP access to the best network of job opportunities from southern Maine's top employers. Your first job experience in the professional world is important to learn more about yourself and your skills, not to mention providing critical hands-on training for your future dream job. If you're ready to get started, join the ProSearch Network today. Let's get to work!
References: