How to Find the Right Job After Raising Kids in Maine
Not long ago, you made a choice to stay at home with your children because that was the right decision for your family. Now, things have changed. Perhaps your kids are starting school, or your financial situation has shifted – either way it can be intimidating to re-enter the workforce after an extended break. Where do you even start?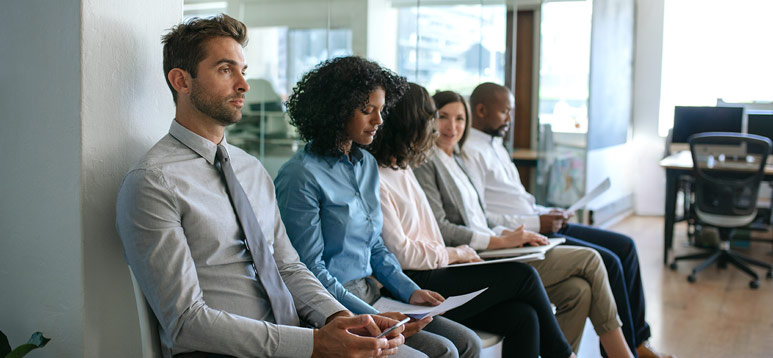 You might be surprised to know that a temporary position is actually one of the best ways to get back into the workforce after raising kids. It's a great way to bridge the gap between pre-child work experience and today's job market. And you don't have to do this alone; a temporary staffing agency based in Southern Maine can connect you with the right opportunities from top employers.
Making the transition from the home back into the workplace
According to Inc., about 11 million parents stay at home to take care of their children. Usually, it's a temporary stop on a career path, with either mom or dad heading back to work when it makes sense (i.e. age of the child, heading to school full-time) and/or when the household needs more money.
Making this shift likely has you feeling all sorts of mixed emotions: excitement about starting something new, sadness about leaving your kids – even fear of the unknown.
In her article "5 Reasons It's So Hard to Go Back to Work After Being a Stay at Home Mom or Dad," blogger Suzanne Lucas discussed a few common pain points that will likely resonate with you as you look back at your previous full-time careers. However, many of these pains can be lessened by re-entering the work force through a temp position. Things like…
Having a boss again: You're probably used to being the "boss" by now – and all the responsibility that comes with it. But when you return to the workforce, someone else is in charge, and you will no longer be the owner of your time and schedule.

Temporary position advantage: The truth of the matter is, every job has a boss, and that's just part of working! However, in a temporary position, you aren't "stuck" with a boss or a job you aren't feeling. This is the ideal set-up to test out a workplace and see if it's a fit for you and the employer. If you are looking for a "temp-to-hire" situation, talk to our recruiters about our Pathway Positions – temporary jobs that are designed to turn into full-time positions. Think of it like an extended interview that you actually get paid for!
Family dynamics and logistics: Ever since you've stayed at home, you've likely handled most or all your kids' logistical needs – things like activities, appointments, and everything in between. With two working parents, who will handle these responsibilities? This can be a huge stressor for families with two working parents, especially in jobs where the hours can be long, overtime is common, and flexibility is non-existent.

Temporary position advantage: Luckily, this is not the case with a temporary job! Instead of logging unpaid overtime and missing your kids' soccer games, you get the work-life balance that your family needs at this stage of your life. You go to your job on the agreed-upon schedule, get paid for the time you actually work, and then head home to your family for some quality time.
Skill progressions: You've been gone from the workforce for a good amount of time, so you're likely to face some challenges when you head back. Things like a younger boss, social media-savvy co-workers, or new technologies you've never heard of.

Temporary position advantage: Instead of starting at the bottom and working your way back up, use a temporary position as an opportunity to refine and polish your existing skills and learn some new ones, too. Then you can transfer those skills to the specific job or industry you'd like to get back to. Temporary employment is the most effective way to update your resume with all new professional experience, update your skills, and immerse yourself into all the new technologies of today's exciting job market.
Quick Tips for Coming Up to Speed in The Modern Workplace
You may not have been officially "employed" but parenting is work, too! Make sure you include the skills you've learned in your time at home on your updated resume.
Make your resume and cover letter impressive with transferrable skills. Any full-time parent knows that they are masters of things like organization, communication skills, and keeping a cool head under pressure.

Put your most impressive/relevant/noteworthy experience and accomplishments at the top, instead of reverse chronological order, because you don't need to call out the long-time gap front and center.
Highlight your roles in various organizations (i.e. parent, community, volunteer work) and detail your marketable skills used in these positions.
Know today's contemporary expectations and tailor your resume to make it appealing to today's employers; online standards and templates will point you in the right direction.
Look for and connect with employers that value specific and unique skillsets that parents bring to the table.
Did you know that 85% of jobs are landed through connections? Expand your network and seek out other professional contacts in your community to see how this can help you get in touch with the right people!
Make sure ALL of your documents and communication with potential employers are perfect, polished, and error-free. Presentation matters.
Why You Need A Temporary Staffing Agency in Southern Maine
According to a recently published study by the Brookings Institute, "the longer a worker is unemployed, the less likely they are to get a job in a given month. The short-term unemployed (less than five weeks) are more than three times as likely to find a job in a given month as people who have been unemployed for a year or more."
Statistics like these can be daunting for parents returning to work. But don't let this deter you, especially since raising a family is important and valuable work. It's nothing to be ashamed of and it certainly doesn't make you a less valuable candidate. All it means is that you might need to go the extra mile to get the proper recognition from employers that you deserve.
Working with a temporary staffing firm is the perfect way to get that extra boost. It's also a golden opportunity to explore exciting new industries and different careers that might not have been around in your previous work life.
The best step to securing a temporary job is not to send out 100 resumes and hope for the best, but instead to work with a temporary staffing agency to help you fine-tune your resume, better visualize your goals, and gain confidence about going back to work. Since many of Maine's top employers utilize ProSearch (often exclusively) as a trusted staffing partner, you'll be adding another layer of professional credibility to your resume, just by being a part of the ProSearch network.
The first step is simple. Just send your resume to ProSearch. After that, you'll speak to a recruiter about your ideal position (including those work-life balance and job flexibility options that you need) and areas of interest, all at no cost and zero risk to you.
At ProSearch, your profile is then matched to current job openings across Southern Maine's top employers. As a major benefit to our candidates, we fill the majority of our positions (almost 50%) before they're even advertised, so no one else even gets the chance to compete for the job, leaving you front and center on the recruiters' radar when the perfect opportunity knocks.
Your skills, especially those gained in your full-time parenting role, are in high demand. And now that you are ready to get back to work, ProSearch can help you find the right temporary position that works for you and your family.
Join the ProSearch Network Today!
At ProSearch, we believe that people's time and careers are important, and we pride ourselves on helping our candidates and clients find the right fit in an open and honest way. While these jobs may be temporary, they far exceed short-term transactions, and we are fully engaged in helping all of our candidates find the very best solutions for their next employment step.
If you are ready to have ProSearch's talented recruiters behind you, visit our website or give us a call at (207) 775-7600 for immediate access to the best network of job opportunities in southern Maine. No longer do you have to make the hard choice between work and family; with temporary employment, you can have both. Join the ProSearch Network today!