Top 10 Tips for Finding a Job You Love Straight Out of School
"Choose a job you love and you will never have to work a day in your life." While this popular saying from Confucius is a great sentiment, for most new college graduates, love won't make your student loan payments. That said, nobody wants a job that makes them miserable, either. So, where's the middle ground?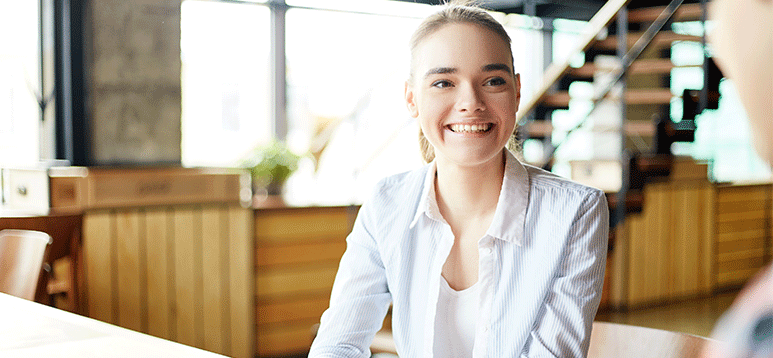 Temporary positions are actually an awesome way to get your feet wet and try out some different types of jobs without any long-term commitments. It's like dating – for job seekers. But unlike dating, temp positions actually pay you while you find the right fit. Even better, you'll get your foot in the door at some of Maine's top employers, and add real-world experience to your resume.
Ok, so how does all that help you find the job you love? We've got 10 simple and effective tips you can use right now!
1. Remember what you loved as a kid. (This is a great tip from The Muse blog!) Instead of thinking about what you studied in college or what the job market looks like right now, think back to your childhood and the types of things that fueled your fire. Is it championing a cause, writing, or analyzing numbers? Taking a moment to reflect on what you enjoy doing is a creativity exercise that can broaden your horizons and help you assess which skills and industries you'd be open to learning more about.
2. Know what you are good at. Your passion and experiences are an important part of the story, but your skills are what will make you shine. So think about the things you're best at – where do you really stand out? Make sure you highlight these skills and other skills you believe you could learn quickly on your resume and in cover letters.
3. Skip the job boards and get a step ahead. Online job boards are full of dead ends. Jobs that have already been filled, were posted months ago, or don't offer the pay and benefits you're looking for. A staffing agency can grant you faster and better access to exclusive job opportunities from Southern Maine's top companies before they're even posted to the public. They'll also help you narrow down the opportunities to the best fit openings.
4. Think outside of the resume box. Your resume is meant to highlight your work experience, but coming out of college you should absolutely highlight non-work experience too (school club participation, leadership roles, other unique things you have done in your educational career). All of these experiences contribute to your knowledge and likelihood of succeeding on the job, making you attractive to potential employers. That said, without previous work experience it can be tough to break into a professional position. Just another reason why temp positions are often the perfect fit for new college grads looking to get their start.
5. Stand out. With limited work experience to lean on, you've got to make yourself stand out in other ways. "Go the extra mile; it's never crowded" is another saying that really rings true, especially in today's crowded marketplace. In fact, Inc. reports that every corporate job opening attracts 250 resumes; 4 to 6 of these candidates will be called for an interview, and only one of them will get the job. Whether it's creating spec work for your industry of choice, attending a conference, or earning a certification online – do it. Going the extra mile does pay off in the end.
6. Volunteer: Another way to beef up a new college grad resume is volunteering. This is also a great way to discover what you're most passionate about and how you can apply your skills. Whether it's helping with social media, special events, or back-end office support, you'll be doing good for the community and helping your resume.
Not sure where to start? Maine has some amazing volunteer organizations to check out including Junior Achievement, Big Brothers Big Sisters, Rippleffect, and Make a Wish.
7. Network. You've heard it before, we'll say it again. So much of the job search is about who you know, not what you know. If you're looking for work in the same place you went to school, you may already have some professional connections you can lean on. If not, it's time to start building that network. Reach out to friends, use social media to find shared connections, and start hitting the pavement at local meet-up events to connect with other professionals in the community. Working with a recruiter or staffing agency is another great way to expand your professional network.
8. Be OPEN to new experiences. When you first graduate college, it's tempting to "hold out" for your dream job. But for most people, that's just not realistic. At this stage in the game, it's all about learning experiences and exploring new things. So try to move past any preconceived notions about specific industries or certain jobs, and just dive in to see what it's really all about.
9. Embrace temporary employment. While some new college grads see temp positions as a last resort, the reality is they are often a shortcut to the dream job you've been pursuing all along. A large portion of temp positions are temp-to-hire (we call them Pathway Positions here at ProSearch), and even if that particular position isn't the perfect fit, often it gets your foot in the door with a particular employer, who then recognizes your talent, and can put you on the shortlist for the right opportunity within the company. Think of it as an extended (paid) interview with one of Maine's top employers.
Speaking of which…
10. Join the ProSearch Network. Since online job boards tend to be crowded and cumbersome in Southern Maine, many employers turn to a trusted staffing partner to fill key positions with the right candidates.
Those staffing agencies then turn to their existing networks to pull the perfect candidates for each position. Much of the time the positions are filled before they ever hit an online job board.
The key is being in that network. And fortunately, it's easy to do! All you have to do to join the network is simply send us your resume through our website. We'll take it from there. If you seem like a good fit you'll have a brief phone call with one of our recruiters to talk with you more about your goals, industries, and companies of interest. If everything looks good, we'll get straight to work finding you the perfect match – often within just a couple of days.
Start Your Dream Job in Maine With A Temporary Position
If you know what you want but just need the experience and connections to get there, it's time to start building your qualifications right now. At ProSearch, we believe that people's time and careers are important, and we pride ourselves on helping our candidates and clients find the right fit in an open and honest way. While these jobs may be temporary, they far exceed short-term transactions, and we are fully engaged in helping all of our candidates find the very best solutions for their career goals.
If you are ready to take this first step and have ProSearch's talented recruiting team behind you, visit our job board or give us a call at (207) 775-7600 for immediate access to the best network of job opportunities in Southern Maine. Your first job experience in the professional world is important. If you're ready to get started, join the ProSearch Network today. Let's get to work!
References: