How to Get Your Foot in the Door at Maine's Best Employers
Ahhh, college graduation – so bittersweet. School's out for, well, ever, and you're heading full speed into a competitive job market with a shiny new degree. Now your challenge is getting your resume in front of the right people and standing out in the crowd of your fellow graduates. This can be an uphill battle, especially in smaller markets like Southern Maine where it can be difficult to get your foot in the door without the right connections. For many degree-toting young professionals, just getting the chance to speak with a hiring manager can be time-consuming and frustrating. Ironically, it can be just as frustrating for employers.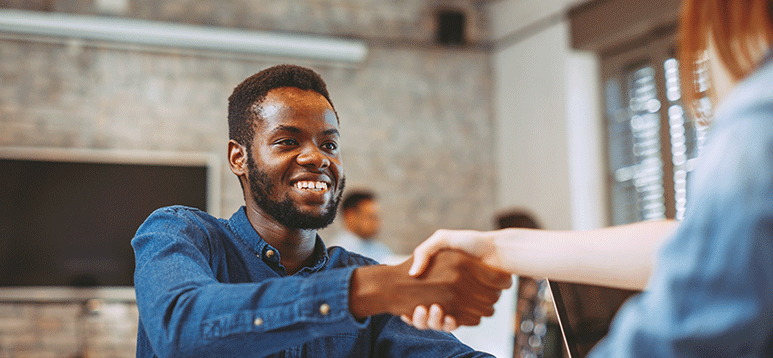 So, Just How Do Recent College Grads "Get Their Foot in the Door"?
The answer probably isn't what you expect – temping. Now, you might be thinking that temping is what people do when they can't get a "real job." But that couldn't be further from the truth. Temping is often the quickest way to get your foot in the door at Maine's most desirable employers. Think of it as an extended interview – one that you can get credit for on your resume while also being paid.
Many of Maine's best-known employers hire recent college grads almost exclusively through temporary staffing. We call these opportunities Pathway Positions here at ProSearch. That's because many of these positions are "temp-to-hire" and the temp position is what gets you noticed and through the door. It also gives you a hands-on chance to develop those highly sought-after "soft" skills and experience that really make your resume shine.
But it's not just the "pathway in" that makes temping so attractive to new college graduates, it also provides a slew of other benefits including;
Trying out different jobs and employer cultures before you commit to a career path.
Connecting you with recruiters who have deep relationships with local hiring managers.
Providing diverse (and marketable) professional experience for your resume.
Allowing you the opportunity to start working and getting paid right away so you can begin kissing those student loans goodbye.
Helping you build a professional network and references.
Worried about Job Security?
While it may seem like a direct hire job is more secure, we believe true job security comes from finding the best fit. The idea is to find the right job at the right employer, and have it turn into the secure position and career path you seek. There is little security in sending in resume after resume and not getting even a look – or making it all the way to the third interview and finding out the pay or the hours just don't line up. Pathway Positions help you avoid all those pitfalls and commit to the right job when you're ready.
Finding the Right Career
Did you know that during your lifetime, odds are you will work in as many as 12 different types of jobs? That's because over time people change – as do technology and employment needs.
While it may be hard to fathom at this early stage of your career, when you take the long view of things, it's easy to see that landing the "perfect job" on the first try is highly unlikely. In fact, there may be parts of your job that aren't perfect, and that's okay. After graduation, the most important (and sometimes the most difficult) thing to do is… just get started. You'll know the right fit when you find it.
That's why partnering with a professional staffing agency to help you land that first (or even the first few) temporary job placements can put you on a better path toward your ultimate career goals.
Getting a Head Start with a Maine Temp Agency
Working with a temporary staffing agency in Southern Maine typically begins with sending along a resume that outlines your educational background, professional skills, abilities, and accomplishments to date. What follows from there is a brief phone conversation with a recruiter to dig a little deeper into your work goals along with industries and specific employers of particular interest to you.
This initial conversation helps the staffing agency find the best fit for you by taking what you're looking for and matching it up with current job openings. It also gets you into their network so that when recruiters get access to open positions that haven't been posted or advertised yet (which happens all the time), they can reach out to you with opportunities and connections. Many of Southern Maine's most prestigious employers turn to established temporary staffing agencies such as ProSearch to fill positions quickly. They don't have time to post to hundreds of job boards or review thousands of resumes. Instead, they rely on a staffing partner to fill positions for them. Quite often, recruiters will also have knowledge of future opportunities that a company may have in their pipeline.
This is a huge advantage for new college graduates that may still be building their professional network. It's also an excellent pathway to a permanent position. Research from the American Staffing Association (ASA) found that typically a little more than one-third (35%) of all temporary job placements end up receiving offers for permanent, full-time work from their employers. So, you can think of your temp placement as essentially an extended interview – one that likely would have been impossible to get with a resume alone.
Particularly for young professionals or recent grads, getting in touch with a temp agency is a pro move. It shows initiative and a willingness to get started on the next stage of your life which many employers value.
Networking and Volunteering Tips: Where to Get Your Foot in the Door
In addition to connecting with local recruiters and temp agencies, volunteering can be an excellent way to make connections, test out your skills, and earn experience for your resume. Organizations and websites such as Junior Achievement, Big Brothers Big Sisters, Rippleffect, and Make a Wish make it easy to find local opportunities to put your skills to work.
Nonprofit organizations are often on the lookout for people to help them with accounting, marketing and communications efforts, special event support, donor/member relations activities, and other types of professional work that potential employers also value. This is a great way to beef up your hands-on experience and do something good for the world too.
Taking That First Step
So, before you spend hours surfing job boards for positions that often have already been filled (make sure you check the posting date before you spend time applying!), press the easy button and let a temp agency do the work for you. There's no risk and no cost to you – so joining the ProSearch network is a no-brainer.
The ProSearch Network is a powerful tool giving you access to better jobs that so many others will never see. In fact, the majority of our listings never hit the job boards. Instead, they are immediately filled by candidates in our network. So, if you're looking for something better in southern Maine, make the ProSearch Network your first step.
Ready to get started? Join the ProSearch network and let's get to work!